Bio + Artist Statement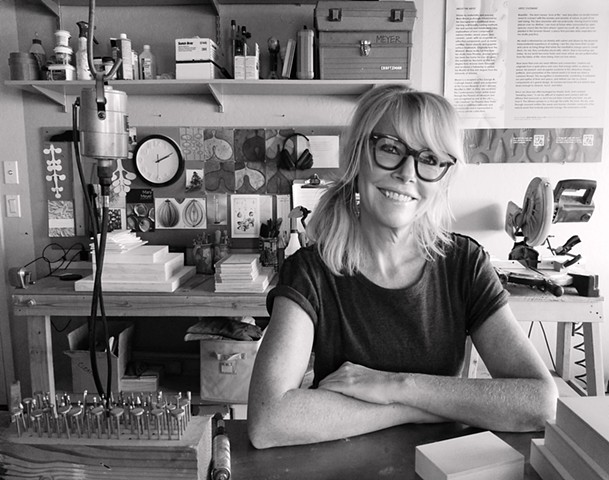 Mary Meyer creates mixed media wall reliefs and installations that examine our human connection with nature and the environment. The work is driven by her interest in ecology, botany, and the intuitive study of form. Her work has been exhibited at the Phoenix Art Museum, Tucson Museum of Art, Phoenix International Airport, Mesa Contemporary Arts Museum, Denver Captial Building, Gertrude Herbert Institute of Art (Augusta, GA), and Agripas 12 Gallery in Jerusalem, Israel. Public commissions include Peter Millard & Partners, Ltd.(London, UK) and currently the Alamar Public Art Program (Avondale, AZ). Recent awards include the Artist in Residence Program at Tempe Center for the Arts, the Pat Mutterer Award presented at the 2020 Arizona Biennial, the Phoenix Institute of Contemporary Art (phICA) Trajectory Print Portfolio Project, and the Contemporary Forum Artist Grant through Phoenix Art Museum. Current projects include The Leaf Connection: a community engagement and environmental awareness project in collaboration with Metro-Phoenix EcoFLora. She has served as a Faculty Associate at Arizona State University and Scottsdale Community College, and has taught workshops for learning programs through Scottsdale Arts. She holds a Bachelor of Fine Arts degree from Arizona State University, and a Master of Fine Arts degree from the University of Arizona, where she received the MFA Fellowship. Her work is represented in public and private collections in the US and internationally.
Artist Statement
I create sculptural works that focus on the essential need for stillness and connection with the natural world. Using materials like clay, metal, wood, and intuitive methods such as carving and hand building, I study how human anatomy is repeated throughout the textures, patterns, and symmetries of the landscape. My personal connection with nature was kindled at an early age. I spent most of my childhood on a farm in South Dakota, devoting much of my time to playing outdoors and exploring the peaceful open spaces that surrounded my home-- places that not only sparked wonder but also offered sanctuary. My work as an artist is informed by this inherent sense of curiosity and need for communion with place. I now draw inspiration from the desert landscape of Arizona— where I've lived for the past 25 years. My recent work includes vast wall systems of ceramic seed and leaf forms which serve as metaphors for interconnectedness, biodiversity, as well as shared human experiences of resilience, solitude, and isolation. I see the forms I create as living organisms that embody the quiet energy and physicality that is slowly disappearing from daily life. The work stems from my passion for life sciences and ecology, and it is driven by an ever-present search for balance.